Yep, I was in an Asian movie mode yet again.
Yep, I'm a Christian who likes stories -- so this leads me into some strange paths at times. So far, haven't gone all perverse and weird but there are times when I end up watching a movie with some heavy (or light) kink in it. Movies about masochistic guys being one of my particular loves. (Too much Somerset Maugham as a kid, I guess.) Anyway, herewith, the kinky Asian edition of my weekly round-up of my movie-watching.
My Little Bride -- Grandpa of his real family and adopted grandpa of his best friend-who-died-in-the-war son's family tells everyone he promised his friend that their children would marry. Unfortunately that didn't work out because families had sons. But then in the grandkid generation there are Samying playboy 23 year old student and Beong, 15 year old high school student. They've grown up like sparring siblings/cousins and Samying was always teasing her when he wasn't taking care of her. Through being slick, grandpa gets them married. But since she's 15 and in high school and since they aren't in love with each other, it's a marriage in name only. Although they share an apartment together. Eventually they fall in love, and realize they've really been in love with each other all their lives. When she's older, they consummate the marriage (presumably). This movie didn't creep me out. Thank heavens. Funny and not pedophilia.
My Wife Got Married
-- Very sweet guy falls in love with free spirit (actually, as a Christian, i'll just say the woman was burdened with lust.) Anyways, she gets bored easily, drinks a lot, warns him she might fall in love with another person...who knows? But he loves her and nags her until she agrees to marry him -- this after all the heartache she's already put him through. (Honestly, who tells someone "you scare me?" breaks up with them then marries them? Not saying the man is a fool but love does make fools of all of us. Dang fool is under the impression that marrying her will turn her into a good faithful mother. Ah, dream on!) But he pretty much agrees that she'll be out all night, doing all sorts of stuff and then she gives in and marries him. Fear of being alone, I think. Even after the engagement she sometimes doesn't answer his calls...and all he wishes is that she "loves only me." Again: poor fool.) Then after a little while she's bored and falls in love with a new guy. Hubby pretends this is fine, but then she tells him she wants to marry the other guy BUT she doesn't want to get divorced. So she marries the other guy as well. Great line (When she tells him that because of him she's learned how wonderful marriage is and so that's why she wants to marry the other guy as well): "You have such a strange talent. You can say something so ridiculous and sound serious?" She wants to live an "honest" life but the upshot is that she has her two husbands lying to their families and when first hubby gets the DNA results that the baby is his and tells her family and her other husband's family she gets angry. (BTW, the film uses soccer as a metaphor. So first hubby says, "It doesn't matter who scores but the record must be exact." Also, there's this: "What is the problem with Korean football?" "Lack of determination in making goals." Then the other responds: "They problem is that they don't have the joy of becoming one, of all aiming for the same goal." Yep, there we have the thematic question in a nutshell. Also, seems there's some kind of heavy adultery stuff going on in Korean relationships. Kind alike in the US with all these cheating partners.) I liked the guys but I gotta say the girl was annoying. The story's told from his POV and we don't get any backstory for her but we're supposed to think of her as so full of life that she just can't help loving men and being loved by them in return. Bullsh*t! And even if it isn't bull, it's hard to accept that when we know nothing about her life. I mean, why the heck is she like this?
I'm not against the double-marriage bigamy thing, BUT all I saw was just her utter selfishness. I suppose the ending is supposed to be a paean of praise to female sexuality but, critical mind that I have, all I kept thinking was that the film was unbalanced. Sure it might be aimed at challenging rigid minds like mine and a rigid society or the husband's rigid sense of male entitlement to his wife, but I totally disliked it and found myself almost puking at all that uplifting "aren't we guys so enlightened because we're going to live together in this new family forced on us by free female sexuality?" Honestly, it felt old hat to me. Which makes me wonder: have I seen another movie where it all ended like this? Jules and Jim maybe? No, another film. Some sixties free love thing.
Majo No Jouken
-- episodic Japanese drama. Didn't watch all of it. Very painful. Troubled 17 year old and troubled 25 year old teacher fall in love, have affair, pretty much ruin each other's life. This drama didn't creep me out either. From what I saw the actors were really good and there seemed to be a lot of unacknowledged mental illness going about. I don't like certain kinds of bitter sweet endings so when their lives started going terrible bad, I just couldn't bring myself to watch anymore. One of those ambivalent endings, I hear. Now, have totally fallen in love with Takizawa Hideaki. Totally handsome kid. Too too too painful at the end, even with that hanging kinda ending. And honestly, I'm still wondering why not finishing high school would doom him to being a gas station attendant for the rest of his life. Yeah, I know the Japanese system is super strait-laced and one needs important grades from important schools to succeed but honestly, his mom (who had some heavy incestuous thing going) was rich. Couldn't he have gone abroad to study? So maybe with my skipping around I missed where she gave up on him or lost her money. Won't go check it out though. Too heart-rending. I'll admit that yours truly endured some wonderful exquisite pain while watching this...reminiscient of the French masochistic flick I saw back in the day called La Pianiste. But still, too devastating...and I just couldn't go through all the episodes.
Boku wa imouto ni koi wo suru
-- Twin brother falls in love with twin sister and they get into a romantic relationship together. Now this creeped me out. Okay, I have had two many gay male friends who were victims of incest when they were younger so I don't exactly take to stories about incest. The only incest story I can remember liking is Close My Eyes with Alan Rickman and Clive Owen. Which is a very good movie despite its cringey subject. But also there's the logistics. I totally believe there's such a thing as genetic attraction, that people related to each other often fall in love with each other if they've never lived together. All those romantic stories of related folks must make us pause. But at the same time I believe in Nobieasku's (my spelling is probably way off) Effect which states that if people live in the same house, related or not, they do not become sexually attracted to each other. Hence kids raises together in families or in kibbutzes or wherever...are not gonna fall in love. Anyway, upshot was -- for all my adventurous movie-watching-- I just was too much of a prig to sit through this.
Not kinky but also watched: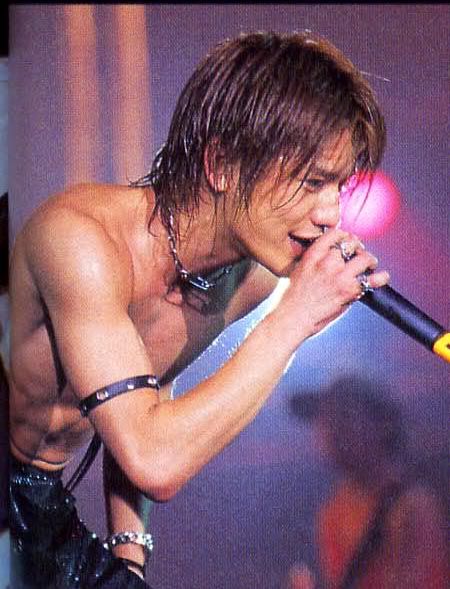 Romeo and Juliet
-- Japanese updated version. And yes, once again my fave Takizawa Hideaki (Now that we're pals, I'll call him Takki, as all his fans do.) Romi is the son of a murderer-doctor in hiding. Juri is a college student. Her father, unfortunately, is seeking Romi's father for the murder. Romi is nobility fallen, so although he picks up garbage and is out of school he's pretty noble. Juri has money -- Japanese detectives make a lot, I gather-- and thus we have this rich kid poor kid dynamic going on. Juri pursues the relationship. They discover soon enough what's going on. Okay, i'll say it..they make a dang cute couple. It was sweet but fairly boring because they focused so much on the love angle. Romeo and Juliet is about anger and hatred and family feuding. But by replacing the grudge with merely one crime situation -- not to mention adding the weird "Romeo's mom and Juliet's dad were doomed lovers back in the day" angle-- it just made the entire thing wimpy. And honestly, I still wonder why the girl would commit suicide. Seems a bit overwrought.
My tutor friend.
A nice comedy. Rich spoiled thuggy kid should be in college but his grades have left him behind in high school. Poor girl -- her mother is friend of rich boy's mother-- needs money to take care of her own college semester bills. So she's stuck with him although he terrifies her, belittles her, mocks her. But after various issues he respects her. Gotta say this one should've been either more funny or less funny. Maybe it's me -- but i don't think it is. I like Asian comedies-- but some areas seemed to try too hard. And some were failed parodies of Matrix type fighting. I have to be in a mood for Asian thug movies. (Although I have to say that nasty teenage girls are the same in all cultures.) But the flick didn't grab me. But I could watch it again if it came on TV. No heart-wrenching stuff in this, mercifully. There's just so much wrenching a poor heart can take.
So now I'm in love with Tackey/Takki